Introduction
Passionate about cooking, baking, kombucha making or jam-making or so? Dreaming of starting your own food business in New Zealand? You're not alone! Many aspiring entrepreneurs in New Zealand have successfully turned their culinary talents and food technology understanding into profitable ventures.

New Zealand has a vibrant entrepreneurial landscape, with a significant number of individuals starting their businesses each year including food businesses. According to Stats NZ, 2022 statistics, New Zealand had 592,700 enterprises, an increase of 5.0 per cent from the previous year. This demonstrates the thriving entrepreneurial spirit and opportunities available for aspiring business owners.

If you're considering starting a food business even from home, you're not alone. Thankfully, there are numerous resources and support networks available to guide you along the way. The New Zealand Ministry for Primary Industries (MPI) provides valuable information and guidelines on starting a food business, including online resources, pamphlets, and official documentation.

Additionally, local business development organizations, such as regional economic development agencies and local councils, offer support and guidance for new entrepreneurs. They can provide tailored advice, workshops, mentorship programs, and funding opportunities. Don't hesitate to reach out to these organizations for assistance in turning your food business dreams into a reality.

Before you embark on this exciting journey, it's crucial to understand the necessary steps to ensure food safety, compliance with regulations, and the overall success of your business.

Registering Your Business in New Zealand

I suppose after checking domain name availability, registered trademarks and social media handles, you chose your new business name and now you are ready to move towards registering your company with the companies register/Companies Office in New Zealand.

This process provides legal recognition and ensures compliance. You can easily register your business online on the New Zealand Companies Office website, which offers a straightforward and user-friendly process. Remember to obtain our New Zealand business number and check the Inland Revenue Department's tax obligations and Goods and Services Tax (GST) registration for your limited liability company, partnership, trust or the business structure you chose anyway.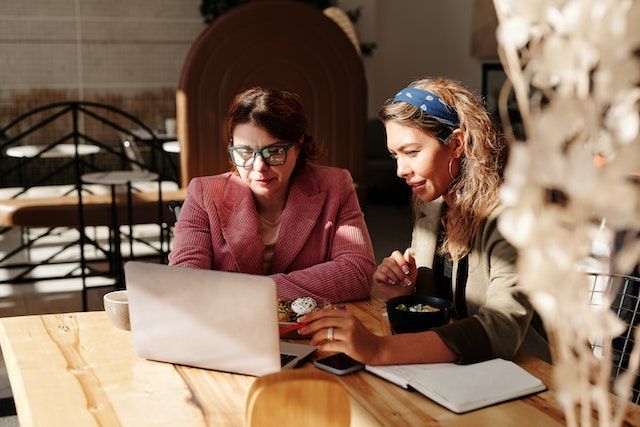 Which New Zealand Food Safety Requirements are applicable to your food business

?

Even selling food from home comes with specific requirements and legal obligations you must comply with. The Ministry for Primary Industries (MPI) in New Zealand provides comprehensive guidelines and resources to help you navigate the legal aspects of starting a food business. Take the time to familiarize yourself with these regulations to ensure your registered business operates within the Food Act 2014 or relevant acts like Animal Product Act 1999 or the Wine Act 2003, whatever applies to your business.

Make sure you complete the easy online tool My Food Rules available at Ministry for Primary Industries website to help you determine the compliance requirements applicable to your business.

Recently, a food professional who is keen on starting a bakery from his home reached out to us at Food Surety Limited for advice, my recommendation was to keep it simple and start with backed semi-perishable products, which works well for him, to fall under a National Programme (NP) versus a full-on Food Control Plan (FCP).

Details on My Food Rules, National Programmes and food control Plans can be found on the Ministry for Primary Industries website here, where you can download your food safety plan. Your council will have great resources too.

Understand the Regulations including the Food Act 2014 and the Food Regulations 2015

In a food business, food safety and hygiene are paramount. It's your responsibility as an entrepreneur and food business operator to maintain high standards of hygiene and ensure the safety of your products. I always say: if it is not safe, it is not food and if it is not food, then you don't have a food business!

One essential requirement is obtaining a food safety training certificate. This certificate demonstrates your commitment to proper food handling practices and compliance with the regulations set by MPI and local councils.

At Food Surety Limited, we offer an Introductory Food Safety Training course designed to meet MPI and council requirements. It provides in-depth knowledge of food safety principles, proper hygiene practices, and regulatory information. Upon completion of the course, you'll receive a certificate, further establishing your commitment to food safety.

Remember to find a food act verifier to conduct your food business verification. This is a recognised person who can verify that you are using the correct food safety rules and plan and that it is well implemented at your site. The My Food Rules will tell who can do your verification. Reach out to us if you need further advice, we can recommend a suitable verifier and Certification Body to you.

How to Register Your Food Business with MPI or Your Local Council?

Even when you operate a food business from home, your kitchen must meet specific requirements. We recommend checking with your local council for their specific requirements to ensure your kitchen is compliant. These hygiene requirements ensure that your workspace is suitable for producing safe and hygienic food. Depending on your local council, you may need to have a separate designated kitchen area or meet particular standards for equipment and storage.

Here is a list of selected local councils, links to their websites and contact details to help you apply for food registration or renew food registration:


Make and Sell Food or Drinks and Receive Your MPI or Council Verification

Now you can focus on what you like the most, preparing, cooking, baking, decorating, packing and selling your food products! Enjoy that and remember that you are protecting consumers and saving lives on daily bases! Best wishes to you on your journey of commitment and brand reputation building.

Your verifier will visit you soon after you start to conduct your food verification, it is an opportunity to identify areas for improvement, dealing with a non-conformance is a lot better than dealing with a customer complaint or a food poisoning incident.
Here is a Food Surety Blog post highlighting the key areas to help you achieve food compliance and success.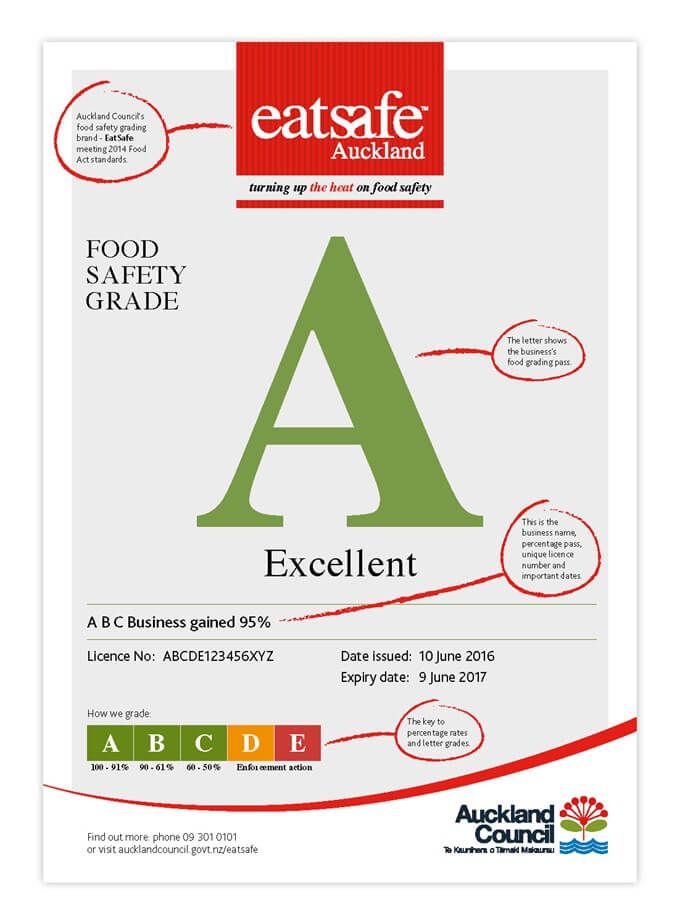 Conclusion

Starting and registering a food business in New Zealand, including a home business, is a thrilling and fulfilling journey. By following the necessary steps, understanding the regulations, and prioritising food safety, you can set your registered food business up for success.

At Food Surety Limited, we're here to support you and your team with our Introductory Food Safety Training course, the first half of which is available for free, making sure you have the knowledge and certification required to operate your business with confidence. So, don't hesitate; start your dream food business today!

For government official resources and up-to-date information beyond the details we have provided here, head to the Ministry for Primary Industries' website and refer to their comprehensive pamphlet.

Questions and Answers

What are the benefits of registering my food business in New Zealand?

It is a compliance requirement to register your food business in New Zealand, and it offers several benefits. Firstly, it provides legal recognition and credibility to your venture. It demonstrates your commitment to operating within the regulations, ensuring the safety and quality of your food products.

Additionally, registration gives you a New Zealand Business Number and allows you to access resources and support from government agencies and local councils, including business advisory services, funding opportunities, and networking events.


Why is food safety training important for my food business?

Food safety training
is crucial for any food business, as it ensures that you, company directors and your staff have the necessary knowledge and skills to handle food safely.
It helps prevent foodborne illnesses, protects your customers' health, and maintains the reputation and success of your business.
By obtaining a food safety training certificate, you demonstrate your commitment to maintaining high standards of hygiene and compliance with the regulations set by MPI and local councils.
How can Food Surety's Introductory Food Safety Training help my food business?

Food Surety's Introductory Food Safety Training is specifically designed to meet MPI and council requirements in New Zealand. This e-learning course provides comprehensive training on food safety principles, hygiene practices, and regulatory compliance.

By enrolling in the course, you gain valuable knowledge and receive a certificate upon completion, solidifying your commitment to food safety. Accessible immediately and convenient for busy schedules, it equips you with the necessary skills to run your food business with confidence. Enrol and join us today.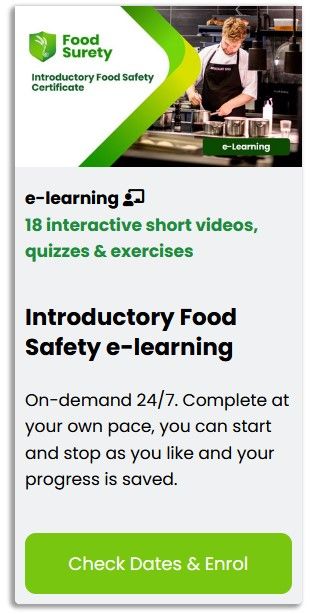 Disclaimer:
The information contained on this article is based on research done in the last months and the author's personal experience and opinions. It is not intended to represent the view of any organization they work for or collaborate with. The authors will not be held liable for the use or misuse of the information provided in the article.
Latest From Food Surety Blog
Enrol in Our
E-learning Courses

Enrol in Our
Virtual Classroom Courses
Check Out Our
Free Resources