Developing & Implementing Food Fraud Prevention Plan -VACCP Training

Is it time for food fraud prevention training/VACCP training? Do you find developing & implementing a food fraud Prevention Plan challenging? Are you pressured by the lack of scope & procedure explanations when it comes to food fraud vulnerability assessment and mitigation?

Enrol in this Food Fraud Prevention VACCP course to gain the knowledge, templates & confidence you need to excel at this task protecting consumers and brands.



Choose VACCP training delivery method and date
Completing this Food food fraud prevention certification, you will be able to:
Understand food fraud prevention and related terminology

Explain food fraud types examples, and potential impact

Understand global mitigation initiatives and expectations


Describe recognised food fraud prevention procedures, approaches and methods


Develop a full food fraud vulnerability assessment and mitigations plan meeting the expectations of GFSI and their recognised standards like, BRC, SQF, FSSC22000 and supplier standards like Woolworths, McDonald's.

Manage, maintain and review your food fraud assessment and mitigation plans

Download and use free Food Surety food fraud vulnerability assessment and mitigation templates used and praised by hundreds of food professionals and their certification auditors

Prepare for and handle expectation of certification audits and access Food Surety food Fraud audit guide
Learning methods


Presentation and workbook

Exercises

Live discussions


Assessment

Links and resources

Downloadable templates
Food Surety food Fraud vulnerability assessment and mitigation VACCP templates praised by tens of food professionals and their certification auditors across the farm to fork food supply chain. In addition, get our audit preparation guide.

Certificate of Completion
Demonstrating your advanced level intentional adulteration and food fraud prevention understanding and competency.

Meet expectations of certification programmes like BRCGS Issue 9, FSSC22000, SQF

W

ho

is it for?




All food sectors

Quality personnel

Technical &Compliance


Production managers

Engineering managers

Procurement & logistics managers

Easy as one, two, three
Choose learning method

Choose date

Enrol
NZ$695 Including GST & Fees

Engaging content developed and delivered using recognised best adult teaching practices


In person interaction with trainer and other trainees at VACCP Training NZ


Engaging and interactive exercises


Access the online assessment and printable VACCP certificate at the end of the course. No waiting time.


Download fully editable Food Fraud Prevention vulnerability assessment & mitigation Excel templates
NZ$695 Including GST & Fees

Delivered in real-time by recognised food safety experts

Engaging and interactive groups exercises


Accessible from anywhere in the world


Accessible from any device


Save the travel time and cost

Access the online assessment and printable VACCP certificate at the end of the course. No waiting time.


Download fully editable Food Fraud Vulnerability assessment & mitigation Excel templates
e-Learning Training

Coming soon

Learn at your pace anywhere anytime


Engaging video, exercises and quizzes


6 months access to updated content


Repeat the training any number of times


Engaging content delivered using recognised best E-learning practices


Cost effective


Access the online assessment and printable certificate at the end of the course. No waiting time.


Download fully editable Food Fraud vulnerability assessment & mitigation Excel templates

Ray Haddad
I am the Trainer & Managing Director at Food Surety Limited. I have worked in the food industry in quality assurance roles, auditing, consulting, training, instructional design, workplace assessment and as an advisor in international food safety projects. This varied experience has given me a depth of understanding of the needs and the pain points among the different parties in the food industry.

Since 2007, I've had a proven track record conducting hundreds of audits including external 3rd party certification audits as an auditor/verifier recognised by the New Zealand Ministry for Primary Industries (MPI). In addition, I have trained thousands of food professionals from government agencies, NGOs, academia and businesses across the whole supply chain from farm to fork and across the different sectors, not only in New Zealand but in Southeast Asia and Middle East.

I am driven by food professionals' experiences of light bulb moments and breakthroughs in their thinking. I enjoy supporting them protecting food for all.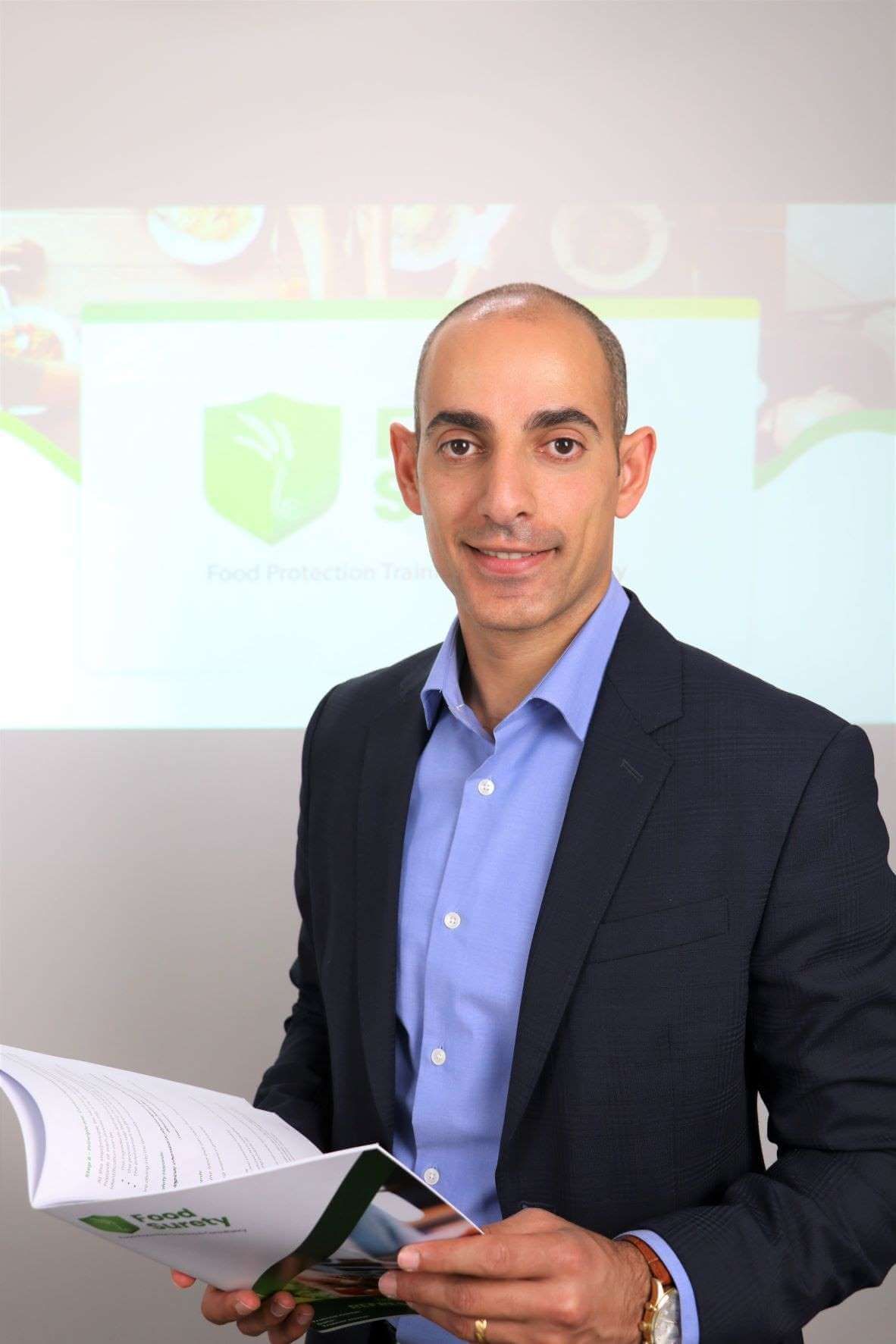 I'm passing on a recommendation for a good course and trainer. I recently completed VACCP training with Food Surety. The one day course was via zoom and was surprisingly hands on with breakout rooms and working through examples. It has helped reflecting on all potential fraud types across the entire supply chain and appropriate mitigations. I highly recommend it.

Craig Cooper
Quality and Operations Manager
Hawkins Watts New Zealand


Ray is very knowledgeable, has a very effective communication and ability to keep you engaged and interested. My team and I have learned a lot, and we feel more confident applying the knowledge back in our workplace.


Virginie Cazeaux
Quality Assurance & Compliance Manager
Frucor Suntory New Zealand Ltd

I would like to sincerely thank Ray Haddad of Food Surety for delivering an Insightful and Informative training session. My Acquaintance and connections who are in the Space of Food safety & Technical compliance who would require an in depth understanding on Food defense and Food fraud implementation. I would certainly recommend you to take up this course


Ravishankar Kumaresan
Food Safety & Regulatory Compliance Manager
Mercorella Group


VACCP Classroom Training NZ - Dates
VACCP Virtual Classroom - Dates
Related Courses & Products
Be the food and HACCP expert you aspire to be! Protect your organisation, consumers and your future!
Food Fraud Prevention VACCP Training to comply with the requirements of FDA, NZ MPI and GFSI recognised FSSC22000, BRCGS Issue 9, SQF, IFS

What is Food Fraud?

Dishonest act or omission, relating to the production or supply of food, which is intended for personal gain or to cause loss to another party" PAS96:2017
Also know as Economically Motivated Adulteration (EMA) as described by the
Food and Drug Administration in USA (FDA)
What is food Fraud Prevention?
"A collective term encompassing the deliberate and intentional substitution, addition, tampering or misrepresentation of food, food ingredients, feed, food packaging or labelling, product information or false or misleading statements made about a product for economic gain that could impact consumer health."
(GFSI) Benchmarking Requirements, 2020
What is Vulnerability assessment and Critical Control Point - VACCP meaning?
"A systematic approach similar to Hazard Analysis and Critical Control Point (
HACCP
) aimed at identifying potential food fraud vulnerabilities, assessing and mitigating these with the focus on mitigating public health harm. This procedure and related information should be documented, implemented, maintained and supported by the food safety Management System (FSMS)
What is the impact of food Fraud incidents?

The impact of food fraud incidents does vary depending on the nature of the product, fraud type and the scale if the fraud.
Economically motivated adulteration and food fraud effects can include:
public health

economic impact
decreasing customer/consumer confidence
How do I develop a food fraud prevention plan?

The three stages of developing a VACCP plan are:
Conducting vulnerability assessment priorities mitigation actions needed
Building a food fraud prevention plan
Implement the food fraud prevention plan supported by the FSMS
In this Food Surety course "Developing & Implementing Food Fraud Prevention Plan VACCP" a complete step-by-step process Editable Excel workbook template is explained and provided.
Types and examples of food Fraud from varied food fraud databases from New Zealand and the world
Substitution:
the process of replacing an ingredient or part of the product of high value with another ingredient or part of the product of a lower value.
E.g. replacing cardamom powder with large cardamom powders when it is significantly cheaper.

Concealment:
The process of hiding the low quality of a food ingredient or product.
e.g. hiding information about the country of origin of Sugar to avoid tariffs in certain markets.

Mislabelling:
The process of placing false claims on packaging for economic gain.
E.g. Organic products that are not organic.

Grey Market /production theft / diversion:
Sales of excess unreported products, Products allocated to a certain market appears in another, markets that are irregular however not illegal.

Unapproved enhancements:
The process of adding unknown and undeclared materials to food products in order to enhance their quality attributes.
e.g. Using Sudan red dyes to colour paprika, chili powders, and curries, it is known carcinogens and are banned for use in foods.

Counterfeiting:
The process of copying the brand name, packaging concept, recipe, processing methods, etc. of food products for economic gain.
E.g. Copying well known imported wine labels and brands by local producers to sell their product at a higher price.
Dilution:
The process of mixing a liquid ingredient with a high vale with a liquid of lower value.
e.g. Diluting expensive oils like avocado oil and olive oil with cheaper oils to make more money. Similarly, using cheaper honey or even sugar syrup to dilute Mānuka Honey

The Complete Food Fraud Prevention self-assessment Checklist
Free food Food Fraud Prevention plan checklist praised by tens of professionals.
Be the food and HACCP expert you aspire to be! Protect your organisation, consumers and your future!