Introduction
Since you are reading this then it is likely that you are a food professional yourself, and like me, you would understand that in the food processing industry, equipment is crucial to the success of the operation. However, the equipment used in food processing can also pose a significant risk to food safety if it is not designed, chosen, approved, and maintained with hygiene in mind.

Both BRCGS Food Issue 9 and FSSC22000 version 6, as you may know, provided updated and detailed requirements for equipment safety, and adherence to these guidelines is crucial for achieving compliance and maintaining high standards of food safety at FSSC22000 and BRCGS certificated sites.

In this article, we will discuss the hygienic design of equipment in food processing, and principles of hygienic design, and provide tips for designing, choosing, approving, and maintaining equipment to ensure food safety in line with the guidelines and expectations of BRCGS Food Issue 9 standard. Lets dive into it!

What is Food Processing Equipment Hygienic Design?
Hygienic design is defined as a set of principles that focus on ensuring that equipment used in food processing is designed to be easy to clean, prevent cross-contamination, and maintain the safety and quality of the food being processed. According to the European Hygienic Engineering & Design Group (EHEDG), a non-profit organization promoting hygienic engineering and design in food processing, hygienic design of equipment has the potential to reduce foodborne illnesses by up to 50%.

Hygienic design is based on a set of principles that are widely accepted as the foundation for designing and building food processing equipment, and they are critical for ensuring food safety.

By incorporating hygienic design principles into equipment design and maintenance, food processors can minimize the risk of food contamination and ensure the production of safe and high-quality food products.
What are the Key Equipment Hygienic Design Principles?
Cleanability: Hygienic design of equipment should be a top priority for food manufacturers and professionals. Smooth surfaces with no cracks, crevices, or other areas where bacteria can grow are essential to ensure effective cleaning and sanitation. Ease of disassembly is also critical to allow thorough cleaning and sanitation.


Sanitation: Equipment must be designed in such a way that allows it to be thoroughly sanitised. All parts should be easily accessible and resistant to the chemicals and thermal agents used in sanitisation processes.


Material Selection: Materials chosen for hygienic design must be durable, easy to clean, corrosion-resistant, and able to withstand damage from chemicals and cleaning agents. Common materials include stainless steel, food-grade plastics, and other non-porous surfaces.


Cross-Contamination Prevention: Equipment should be designed to prevent cross-contamination between different products and processing areas/production environment. Dedicated product zones and clear separation of raw and cooked items can help minimise the risk of cross-contamination. Colour coding can also be used to ensure that there is no mix-up of products during the manufacturing process.


BRCGS issue 9 and FSSC 22000 Version 6 Expectations for Managing Food Processing Equipment
Generally, certificated food manufacturing sites are expected to keep in mind:
The condition of the equipment should not pose a risk of product contamination.


Equipment should be effectively cleaned to ensure product safety.


Equipment should be capable of producing safe food products.


Storage conditions must ensure equipment safety and integrity to prevent contamination.


Movable equipment should be controlled to prevent contamination when moved between areas.


Risk assessments and controls must be proportionate to the likely risk to the product.


Consider equipment maintenance and condition monitoring in section 4.7 of the standard.


Calibrate new equipment with measuring devices according to section 6.4 of the standard.


Consider risks associated with new products or production processes in section 5.1 of the standard.
Equipment Purchase Specifications
You are expected to consider the following before even introducing a new (which can be second hand or refurbished by the way) piece of equipment to the site:
A specification for new equipment shall be developed before purchase to ensure that it meets the site's needs and eliminates or manages any identified food safety hazards
Purchase specifications should contain sufficient information to ensure product safety and suitability of the equipment and its hygienic design.


The actual amount of detail in the purchase specification will depend on the type of equipment being purchased.


A good practice is to consider who within the company can authorise the purchase of new equipment, and input from multiple departments may be required for complex machinery.


Legislative requirements may vary when purchasing equipment from suppliers in other regions or countries.


The site should retain evidence of the specification and confirmation from the supplier that these are met.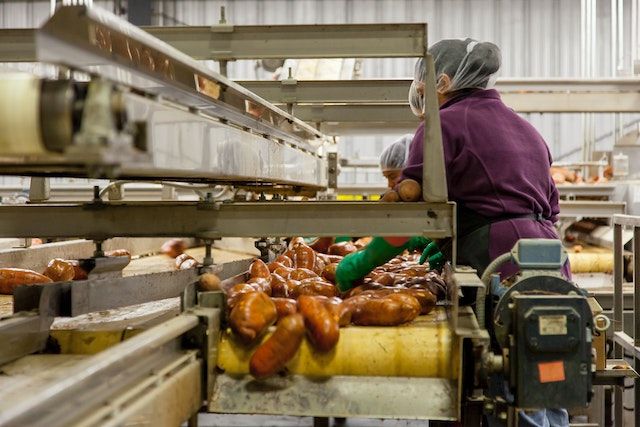 Direct Food Contact Equipment

The company must have evidence that the risks have been considered, and that the equipment is suitable for food contact surfaces before using the equipment.


Food contact surfaces should be smooth and impervious which is important to hygienic design and to prevent potential allergen and microbiological contamination of the product.


Welds and joints quality to be suitable for the intended use


A risk assessment is to be conducted considering the risks of foreign-body, microbiological, allergen, or chemical contamination of the product followed by choosing appropriate controls


In case of purchasing a 2nd hand piece of equipment with no confirmation of using food-safe materials e.g. the grade of stainless steel used, you should assess the nature of the material, the nature of the food, and the contact time length
Equipment design and construction
You shall develop and implement a risk-based procedure, another risk assessment needed here, to manage the introduction of equipment to production and storage areas. When developing this process please consider:
The commissioning procedure must be risk-based and flexible, depending on the nature of the equipment and its intended use. Commissioning activity might include installation and sign-off of equipment, trials operating the equipment, cleaning validation, and maintenance checks.


Equipment must be appropriately positioned for routine cleaning, operation, inspection, and servicing.


Permanently sited equipment should be properly secured and sealed to the floor to prevent accumulation of food debris underneath which may eventually lead to

Salmonella

or Listeria contamination


Equipment must be cleaned and inspected prior to use, and formally accepted into operation by an authorized member of staff. Records like appropriate engineering records or line start-up check sheets can be used to demonstrate the equipment has been inspected prior to use.


The commissioning procedure must include updating any other relevant site procedures affected by the
new equipment.
Movement and repositioning of static equipment
At your workplace, you need to identify static equipment which can be defined as equipment that is not usually moved or is only moved in exceptional circumstances. You shall have a documented procedure that covers how food safety and equipment integrity will be maintained during the movement of the equipment. It is good practice to complete a risk assessment to determine specific risks and controls needed during equipment movement.


This procedure may include information on the type of equipment to be moved, how the movement will occur, requirements for re-installation, staff authorisation, and responsibility, staff training, records required to demonstrate necessary controls were completed, and post-movement cleaning. Staff training. Records need to be maintained to demonstrate that all necessary controls were completed. As well as post-movement cleaning is important to ensure that any potential contaminants are removed.
Storage of equipment

Stored equipment must be protected from contamination.


Equipment stored in production areas must be kept clean and in hygienic conditions.


A documented cleaning procedure, periodic inspections, checks or condition monitoring, labelling, and management through the food safety plan or HACCP can be used to ensure equipment is kept clean.


Direct food contact equipment must be inspected, cleaned and disinfected prior to next use.
Mobile equipment

As you know, mobile equipment like ladders and pallet jacks can pose a risk to product safety, including microbiological, allergen, chemical, or foreign-body risks. Hence, the need for documented procedures to ensure that this mobile equipment used in open product areas of a food manufacturing site as example, does not compromise product safety.
Documenting a mobile equipment log, approved users, dedicated equipment, condition monitoring, and cleaning and maintenance schedules can be included in such a procedure.


A risk assessment shall be documented to assess the risk associated with using certain mobile equipment in both internal and external areas, where needed, additional procedures can be used to minimise potential contamination i.e. specific cleaning and disinfection procedures, and identifying the parts of the equipment that need to be cleaned.


Of course, extra care is to be given to mobile equipment at sites that operate multiple production risk zones, when moving equipment between production risk zones.
Battery-charging equipment

When using battery-powered equipment, battery-charging equipment must not be stored or used in production or open product areas, the exception to this is when the batteries are fully sealed and maintenance-free.


Conclusion
To conclude, we would like to remind you that it is of huge importance that you ensure that all production and product-handling equipment is suitable for its intended purpose and used to minimise the risk of product contamination.

Food manufacturers and food professionals like you should consider the equipment's condition, equipment cleanability, and ability to produce safe food products. Of course, risk assessments, and controls must be proportionate to the likely risk to the product.

Following industry best practices, such as those outlined in EN 1672-2:2009, ISO 14159:2002, and GFSI Benchmark JI and JII, can also help ensure compliance with equipment requirements.

The above tips will help you comply with the FSSC 22000 Version 6 and BRCGS Food Issue 9 standard. If you're interested in learning more about BRCGS's updated food global standard, issue 9, we recommend our comprehensive Food Surety BRCGS Issue 9 site conversion course. This course is designed to help food professionals understand the BRCGS standard and meet its requirements, including equipment requirements. Enrol now to gain the knowledge and skills needed to ensure compliance with the


Further Standards and Guidelines:
There are several industry guidelines and standards that provide detailed recommendations for equipment safety, including:

EN 1672-2:2009 – Food Processing Machinery – Basic Concepts – Hygiene and Cleanability Requirements


ISO 14159:2002 – Safety of Machinery — Hygiene Requirements for the Design of Machinery


GFSI Benchmark JI (for building and equipment manufacturers) and JII (for building and equipment users).
Disclaimer:
The information contained on this article is based on research done in the last months and the author's personal experience and opinions. It is not intended to represent the view of any organization they work for or collaborate with. The authors will not be held liable for the use or misuse of the information provided in the article.
Latest From Food Surety Blog
Enrol in Our
E-learning Courses

Enrol in Our
Virtual Classroom Courses
Check Out Our
Free Resources